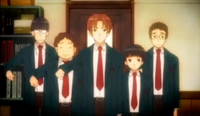 Computer Research Society (コンピュータ研究会), sometimes Denkensha (電研社) or Conpi-Ken Buchou (コンピ研部長), is a North High student club formed by the The Computer Research Society President which is right next door to the SOS Brigade in the cultural department clubhouse.
Haruhi Suzumiya blackmailed a computer from them, sparking ill feelings.
The Computer Research Society developed The Day of the Sagittarius III for the culture festival. They challenged the SOS Brigade to a "duel", but lost. The SOS Brigade therefore won four more laptops from them. Haruhi decided they would be the SOS Brigade's second branch or IT department. The club noted that SOS Brigade member Yuki Nagato was a computer genius and invited her to attend club events.
Nagato became an occasional visitor. She worked on a "do-it-yourself" computer project, writing her own operating system.
When the Student Council President threatened to shut down Nagato's Literary Club unless she presented a literary magazine, Haruhi Suzumiya appointed herself editor and dragooned the Computer Research Society into writing an article on computers for it.
By the next year, the society had developed The Day of Sagittarius V.
Known Members
Edit