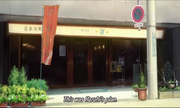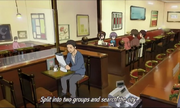 The Dream Coffee Shop (Hyogo-ken Nishinomiya-shi Koufuuen) is the cafe where the SOS Brigade usually meets. The cafe's name was revealed in The Melancholy of Haruhi Suzumiya Manga Volume 17.
They serve food and drink in packages with a "W" symbol (a reversed McDonald's symbol).
Emiri Kimidori obtained a job there so she could spy on Sasaki and her coterie. She was not allowed to work there due to her position at North High, working for the Student Council President, so she kept her job there a secret.
Employees
Edit
External links
Edit
Ad blocker interference detected!
Wikia is a free-to-use site that makes money from advertising. We have a modified experience for viewers using ad blockers

Wikia is not accessible if you've made further modifications. Remove the custom ad blocker rule(s) and the page will load as expected.