This article is written from a real world point of view.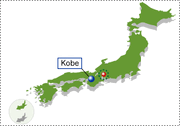 Kōbe (神戸市 Kōbe-shi) is a city in western Japan. The capital of Hyōgo Prefecture, it is part of the Kyoto-Ōsaka-Kobe metropolitan area along with Osaka and Kyoto.
According to translation notes in The Melancholy of Haruhi Suzumiya manga, volume 13, the setting of The Melancholy of Haruhi Suzumiya takes place in Kobe, with North High being placed in the city. However, background art in the anime features the nearby town of Nishinomiya instead.
Locations
Edit
Hyogo-ken Kobe-shi Chuuou-ku Port Island - location of where the SOS Brigade watched the fireworks display in Endless Eight
Ad blocker interference detected!
Wikia is a free-to-use site that makes money from advertising. We have a modified experience for viewers using ad blockers

Wikia is not accessible if you've made further modifications. Remove the custom ad blocker rule(s) and the page will load as expected.