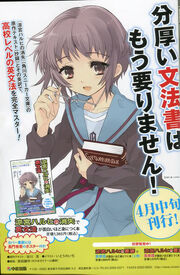 Master English Grammar in A Fun Way with The Disappearance of Haruhi Suzumiya (Suzumiya Haruhi no Shōshitsu de Eibunhō ga Omoshiroi Hodo Mi ni Tsuku Hon) is a Haruhi Suzumiya-based product sold in April 2013. It teaches English grammar.
It is sold by Chukei, a Kadokawa Group publishing company, which has sold other Haruhi Suzumiya English guides.
Yoyogi Seminar teacher Kensaku Harada uses actual text from The Disappearance of Haruhi Suzumiya novel and its translation to help students master English grammar. The cover and poster art is by Noizi Ito.
External Links
Edit
Lynzee Lamb. 2013-02-25. Haruhi & Nagato Teach English Grammar in New Guide. Anime News Network.
Ad blocker interference detected!
Wikia is a free-to-use site that makes money from advertising. We have a modified experience for viewers using ad blockers

Wikia is not accessible if you've made further modifications. Remove the custom ad blocker rule(s) and the page will load as expected.