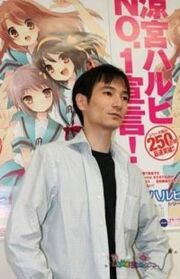 Nagaru Tanigawa (谷川 流, Tanigawa Nagaru), born December 19, 1970, is the inventor and main writer of The Melancholy of Haruhi Suzumiya series.
He grew up in Nishinomiya, between Kobe and Osaka, and is part of the Hyōgo Prefecture, in the Kansai region (関西地方 Kansai-chihō) of Japan. Numerous landmarks in Nishinomiya, including the high school, feature in The Melancholy of Haruhi Suzumiya anime. The light novel series has also mentioned the Hanshin Tigers (based in real life Nishinomiya).
As a native of Hyōgo, Tanigawa speaks the Kansai-ben dialect, but the series is written in the Tokyo dialect instead.
Tanigawa is a graduate of the law school at Kwansei Gakuin University. He won the grand prize at eighth annual Sneaker Awards for the Haruhi Suzumiya series. Though all of Tanigawa's light novel series had been on hiatus for several years, he started working on a manga series titled Kagerou Meikyū; the first bound volume was released in August 2009.
Other Works
Edit
Light Novels and Short Stories
Edit
Published in Dengeki Bunko and Dengeki Moeoh
Edit
Let's Leave the School (学校を出よう! Gakkō o Deyō!) series (hiatus)

Escape from The School
I-My-Me
The Laughing Bootleg
Final Destination
Not Dead or Not Alive
Vampire Syndrome
This series focused on teenage psychics escaping from the EMP Academy.
Dengeki Aegis 5 (電撃!! イージス5) (two volumes, complete)
The Closed Universe (hiatus)

The Despairing Ones (絶望系 閉じられた世界 Zetsubōkei Tojirareta Sekai)

The Guardian of my World; Boku no Sekai o Mamoru Hito (僕のセカイをまもるヒト) (three volumes, complete)
Amnesia Labyrinth (Kagerō Meikyū) (蜻蛉迷宮) (complete, 2 volumes)
Bokusatsu Tenshi Dokuro-chan Desu (Bludgeoning Angel Dokuro-Chan) (in collaboration, complete)
Ad blocker interference detected!
Wikia is a free-to-use site that makes money from advertising. We have a modified experience for viewers using ad blockers

Wikia is not accessible if you've made further modifications. Remove the custom ad blocker rule(s) and the page will load as expected.