This page is for the manga, see here for the anime page.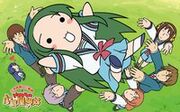 Nyorōn Churuya-san (にょろーん☆ちゅるやさん」) is a four-page manga series illustrated by Eretto (Utsura Uraraka). It was published in Shonen Ace for the entirety of 2007 and was released in a single volume in 2009.
Characters
Edit

The Melancholy of Haruhi Suzumiya (1 · 2 · 3 · 4 · 5 · 6 · 7 · 8 · 9 · 10 · 11 · 12 · 13 · 14 · 15 · 16 · 17 · 18 · 19 · 20)


Individual chapters (Volume 3: Knowing Me, Knowing You, Volume 4: Mystérique Sign Returns, Volume 5: A Perspective of Life from Shamisen, Get in the Ring, Volume 6: Show Must Go On, Tales From The Thousand Lakes, Volume 7: The Day of Sagittarius Aftermath, Volume 8: Parallel Sidestory I: A Sudden Cinderella Sidestory, Parallel Sidestory II: Mikurion Dollar Baby, Volume 9: The Disappearance of Haruhi Suzumiya: Epilogue, Parallel Sidestory III: The Message from Meiji 38, All Clear Out Here, Volume 11: Red Data Elegy, Volume 12: The Disappearance of Haruhi Suzumiya ~Another Day~ (Intrigues prologue), Volume 13: Welcome to the House of Terror)
Official Spinoffs (The Disappearance of Nagato Yuki-chan)
Official Parodies (The Melancholy of Haruhi-chan Suzumiya (Nano Branch) · Nyoron Churuya-san · The Intrigues of Itsuki Koizumi-kun)
Third-Party Anthologies (The Misfortune of Kyon & Koizumi · The Celebration of Haruhi Suzumiya)
Others (Mizuno Makoto)

Ad blocker interference detected!
Wikia is a free-to-use site that makes money from advertising. We have a modified experience for viewers using ad blockers

Wikia is not accessible if you've made further modifications. Remove the custom ad blocker rule(s) and the page will load as expected.