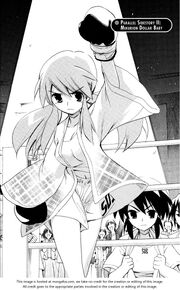 Parallel Sidestory II: Mikurion Dollar Baby is a Haruhi Suzumiya Manga chapter in volume 8.
Book Info
Edit
Mikuru Asahina had gone through recurring dreams. They involved her as a boxer, fighting under her manager Haruhi Suzumiya in the SOS Gym.
Mikuru had performed well enough to "conquer the world" in Haruhi's words, drawing the attention of a shadowy high-flying fight promoter. He wanted her to participate in a match against the current champion, Yuki Nagato. If Mikuru won, the SOS Gym would receive funding, but she would have to move away from Haruhi.
Mikuru was left with mixed feelings. Haruhi wanted her to win the match, going a place where Haruhi, herself a former boxer, had failed at. However, Mikuru wanted them to go ahead together. She recalled her dreams of "another world" in which the SOS Brigade existed.
She faced Yuki, doing poorly early on, as she hadn't really decided if she wanted to win or not. Haruhi shouted at her to do better. The two competitors clashed head-on, leaving one of them seriously injured...
Back in the real word, Mikuru told the rest of the Brigade that she woke up at this point.
Back in the dream, it turns out Mikuru lost. Yuki had used an impossible dodge, causing Mikuru to wonder if "divine intervention" had decided the match, and revealed that she hadn't actually wanted to win. Mikuru was happy despite the loss, as she would be able to stay with Haruhi.
 

Haruhi Suzumiya Manga Volumes
Volumes
Individual
chapters

Volume 3:

Knowing Me, Knowing You

, Volume 4:

Mystérique Sign Returns

, Volume 5:

A Perspective of Life from Shamisen

,

Get in the Ring

, Volume 6:

Show Must Go On

,

Tales From The Thousand Lakes

, Volume 7:

The Day of Sagittarius Aftermath

, Volume 8:

Parallel Sidestory I: A Sudden Cinderella Sidestory

,

Parallel Sidestory II: Mikurion Dollar Baby

, Volume 9:

The Disappearance of Haruhi Suzumiya: Epilogue

,

Parallel Sidestory III: The Message from Meiji 38, All Clear Out Here

, Volume 11:

Red Data Elegy

, Volume 12:

The Disappearance of Haruhi Suzumiya ~Another Day~

(

Intrigues

prologue), Volume 13:

Welcome to the House of Terror

Official
Spinoffs
Official
Parodies
Third-Party
Anthologies
Others
Ad blocker interference detected!
Wikia is a free-to-use site that makes money from advertising. We have a modified experience for viewers using ad blockers

Wikia is not accessible if you've made further modifications. Remove the custom ad blocker rule(s) and the page will load as expected.