The Assortment of Haruhi Suzumiya: Collection of Songs in an Anime The Melancholy of Haruhi Suzumiya
Comments

0
Share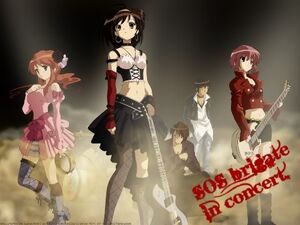 The Assortment of Haruhi Suzumiya: Collection of Songs in an Anime "The Melancholy of Haruhi Suzumiya" (涼宮ハルヒの詰合 ~TVアニメ「涼宮ハルヒの憂鬱」劇中歌集シングル~ Suzumiya Haruhi no Tsumeawase) was first released in Japan on June 21, 2006. In the actual performance, Susumu Nishikawa played the guitar, Takeshi Taneda played the bass guitar, and Yutaka Odawara played drums. Animators traced their performance by rotoscoping, and drew the performance scene in animation.
Ad blocker interference detected!
Wikia is a free-to-use site that makes money from advertising. We have a modified experience for viewers using ad blockers

Wikia is not accessible if you've made further modifications. Remove the custom ad blocker rule(s) and the page will load as expected.