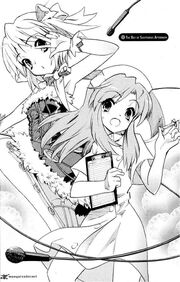 The Day of Sagittarius Aftermath is a chapter of the Haruhi Suzumiya Manga, volume 7.
Book Info
Edit
A few days after the Sagittarius contest, the Computer Research Society came for Nagato. When she returned to the SOS Brigade, she read a computer magazine on her computer. Kyon, noting the newsletter was unpopular, decided to hide her visit from Haruhi.
The Computer Research Society then invited Asahina to a session, which Kyon suggested she hide from Haruhi as well. The Society used images of Nagato and Asahina in their newsletter, which they used to recruit girls to their club (they felt safer knowing there had been female members).
Kyon noted that Nagato's visits hadn't "worked out", but she should still visit them if she felt like playing with computers. Meanwhile, Haruhi came up with names for the Computer Research Society (such as SOS Brigade I.T. Branch) and said she might visit them sometime (for the same reason the prime minister sometimes visits locals).
 

Haruhi Suzumiya Manga Volumes
Volumes
Individual
chapters

Volume 3:

Knowing Me, Knowing You

, Volume 4:

Mystérique Sign Returns

, Volume 5:

A Perspective of Life from Shamisen

,

Get in the Ring

, Volume 6:

Show Must Go On

,

Tales From The Thousand Lakes

, Volume 7:

The Day of Sagittarius Aftermath

, Volume 8:

Parallel Sidestory I: A Sudden Cinderella Sidestory

,

Parallel Sidestory II: Mikurion Dollar Baby

, Volume 9:

The Disappearance of Haruhi Suzumiya: Epilogue

,

Parallel Sidestory III: The Message from Meiji 38, All Clear Out Here

, Volume 11:

Red Data Elegy

, Volume 12:

The Disappearance of Haruhi Suzumiya ~Another Day~

(

Intrigues

prologue), Volume 13:

Welcome to the House of Terror

Official
Spinoffs
Official
Parodies
Third-Party
Anthologies
Others
Ad blocker interference detected!
Wikia is a free-to-use site that makes money from advertising. We have a modified experience for viewers using ad blockers

Wikia is not accessible if you've made further modifications. Remove the custom ad blocker rule(s) and the page will load as expected.