The Disappearance of Nagato Yuki-chan (anime)
Talk

1
Share
The Disappearance of Nagato Yuki-chan


Promotional Image
Written by
Touko Machida
Directed by
Jun'ichi Wada
Theme music composer
Tatsuya Kato
Opening theme
"Furefure Mirai" (フレ降レミライ Pouring Future) by Hokkō Bungei-bu Onagokai (Minori Chihara, Natsuko Kuwatani, Yūko Gotō, Yuki Matsuoka, and Aya Hirano)
Ending theme
"Arigatō, Daisuki" (ありがとう、だいすき Thank You, I Love You) by Minori Chihara
Studio
Satelight
Country of origin
Japan
No. of seasons
1 (so far) and 1 OVA
No. of episodes
16 (List of episodes)
Broadcast
Original channel
Tokyo MX, CTC, tvk, TVS, SUN, TVQ, GBS, MTV, SBC, BS11, AT-X


Funimation (US)

Licensed by
Madman Entertainment, Funimation
Original airing
April 3, 2015
External links
Official website
The Disappearance of Nagato Yuki-chan (長門有希ちゃんの消失 Nagato Yuki-chan no Shōshitsu) is an anime adaptation of Puyo's Haruhi Suzumiya spin-off manga: The Disappearance of Nagato Yuki-chan.
The project was approved and announced in December, 2013.[1][2] In September, 2014 Kadokawa's Young Ace magazine announced that the anime will premiere in 2015.[3] In December, 2014, the official website unveiled the main staff and main cast for the series.[4]
It premiered on April 3, 2015.[5] It aired for sixteen episodes, covering the first five volumes of the manga.[6]
An original video animation will be bundled with the manga's ninth volume on October 26, 2015.[7][8]
FUNimation acquired the rights to the series shortly after its premiere, streaming the series subtitled on its online service. On May 29, 2015, an English dub was released, with the cast revealed the day before. All cast members from the Bang! Zoom! dub (IE Michelle Ruff, Crispin Freeman, and Wendee Lee) reprised their roles. The dub is directed by Christopher R. Sabat, and Bonny Clinkenbeard serves as head writer.
This project is unrelated to any new season of the Haruhi Suzumiya's main series.
Main Characters
Edit
The series is an alternate story of the main series, taking place in the world of the "Disappearance" arc from the original novels. Focusing on the high school life of the human version of Yuki Nagato.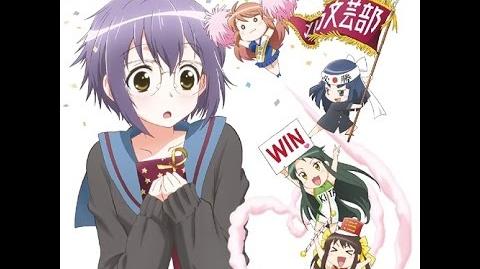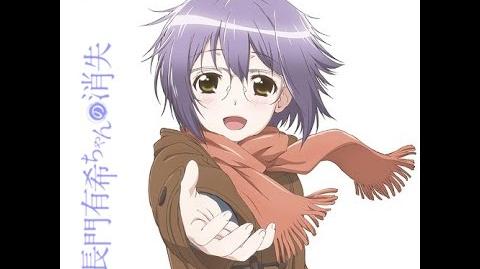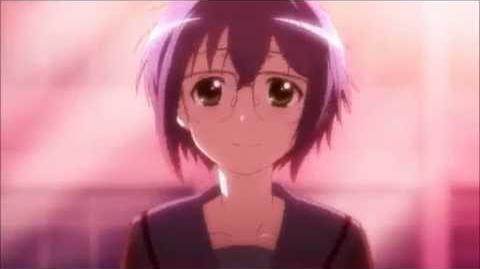 | | |
| --- | --- |
| Episode Number | Original Airdate |
Ad blocker interference detected!
Wikia is a free-to-use site that makes money from advertising. We have a modified experience for viewers using ad blockers

Wikia is not accessible if you've made further modifications. Remove the custom ad blocker rule(s) and the page will load as expected.