The Disappearance of Nagato Yuki chan
Talk

0
340pages on
this wiki
The Disappearance of Nagato Yuki-chan (長門有希ちゃんの消失 Nagato Yuki-chan no Shōshitsu) is a spin-off manga based on The Disappearance of Haruhi Suzumiya. It stars Yuki Nagato.
It was created by Puyo and started serialization in Kadokawa Shoten's Young Ace magazine in July 2009. The first volume was officially released on February 4th, 2010. There are currently four volumes. In addition, chapters are printed "ahead of time" in Young Ace.
At the New York Anime Festival, Yen Press announced that it has licensed The Disappearance of Nagato Yuki-chan and will start releasing it in July 2012 in English. The first English publishing came out that month.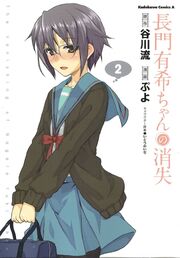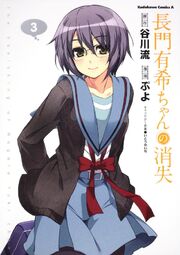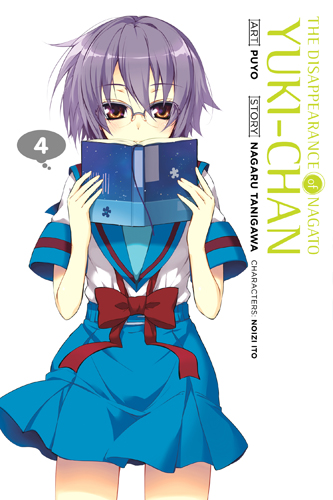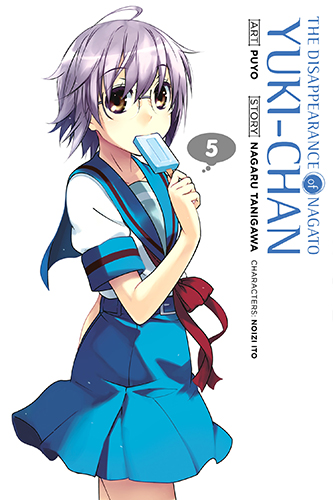 The spin-off of "The Melancholy of Suzumiya Haruhi" begins! This time the main heroine is Yuki! The story revolves around Yuki and Kyon, about their school life, their club activities, their comedic schoolmates, and the bits and pieces of romantic times that the two have together which you might just want to enjoy reading!
As the shy head of the Literature Club, Nagato has had a hard time recruiting members. Her close friend Ryoko Asakura supports her in this. Drafting Kyon, she eventually meets up with Haruhi Suzumiya, Tsuruya, Mikuru Asahina and Itsuki Koizumi, and has to put up with their hijinks while trying to romance Kyon. Asakura seems ambivalent about the latter prospect.
In volume 3, Nagato suffers a minor car accident. However, this seems to have reawakened the original Nagato to an extent—she no longer recognized her (false) memories as her own, leaving Asakura so worried she dragged Nagato to the hospital. The brain scan showed nothing unusual, however. Asakura and Kyon became concerned about this different behavior. Afterward, her mental performance did not falter (she studied math textbooks all night; while she easily understood the math as an honor student, she had to memorize the examples to give answers that the teacher could understand), and her athletic performance vastly improved. She still demonstrated human frailties such as being tired in the morning and having a gurgling stomach when she got hungry.
Asakura displayed odd behavior too, once mentioning to Kyon that she thought of stabbing him as an outlet for stress. (Kyon didn't take the comment seriously.)
Nagato started teaching Kyon math, and asked him to keep his promise to take her to the library. He agreed.
Characters
Edit
Volume 1
Volume 2
Volume 3