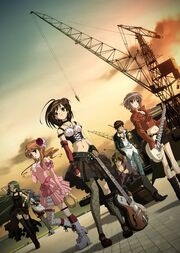 Suzumiya Haruhi no Gekisou (涼宮ハルヒの激奏, The Extravaganza of Haruhi Suzumiya) was a live concert event held at Omiya Sonic City on March 18, 2007 that featured songs from the anime as well as interviews and skits performed by the voice actors.The MCs for the event were Minoru Shiraishi and Megumi Matsumoto.
Event Summary
Edit
Performer Introduction
Famous Scene Introduction ① (In order of reference: Kyon, Haruhi, Mikuru, Yuki, Itsuki, Tsuruya, Ryouko, Emiri, Kyon's Sister, Taniguchi, and Kunikida)
Famous Scene Introduction ②
End of Famous Scenes
The Skit of Haruhi Suzumiya
Live Concert Summary
Edit
Koi no Mikuru Densetsu performed by Yuko Goto
Bouken Desho Desho? performed by Aya Hirano
Kaze Yomi Ribbon performed by Aya Hirano
Yuki, Muon, Madobe nite performed by Minori Chihara
SELECT? performed by Minori Chihara
Parallel Days performed by Aya Hirano
Mitsukete Happy Life performed by Yuko Goto
Seishun Iijanaika performed by Yuki Matsuoka
COOL EDITION performed by Natsuko Kuwatani
God Knows... performed by Aya Hirano
Lost my music performed by Aya Hirano
Maggare↓Spectacle performed by Daisuke Ono
Kentai Life Returns! performed by Tomokazu Sugita with Aya Hirano
Saikou Pare Parade performed by Aya Hirano, Minori Chihara, and Yuko Goto
Welcome UNKNOWN performed by Aya Hirano, Minori Chihara, and Yuko Goto
Hare Hare Yukai performed by Aya Hirano, Minori Chihara, and Yuko Goto
(Encore) Hare Hare Yukai (TV Size) performed by Aya Hirano, Minori Chihara, Yuko Goto, Tomokazu Sugita, and Daisuke Ono
Final Remarks from the cast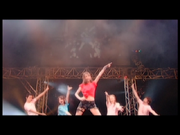 The event was only released on DVD in Japan on July 27th, 2007 by
Kadokawa Anime
and Movic in a two disc pack. Each part of the event was placed on a separate disc with the Event disc containing some bonus features. While the main event was displayed in a letterboxed 4:3 format (the picture was 4:3 with the event being in widescreen), the bonus features were in 16:9 widescreen format. Included with the set were: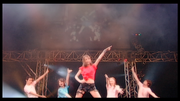 The concert portion was upscaled and put onto the second of three bonus features discs for the BD-Box released on November 26th, 2010.
Ad blocker interference detected!
Wikia is a free-to-use site that makes money from advertising. We have a modified experience for viewers using ad blockers

Wikia is not accessible if you've made further modifications. Remove the custom ad blocker rule(s) and the page will load as expected.