This article is about an unofficial fan work.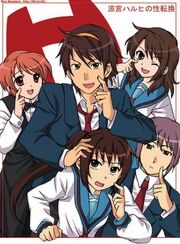 The Genderbending of Haruhi Suzumiya (涼宮 ハルヒの 性転換, Suzumiya Haruhi no Seitenkan) is a collaborative fan project to recreate the world of The Melancholy of Haruhi Suzumiya with the characters' genders switched. It's even just as popular as the original series that Nagaru Tanigawa created. A fan made voice drama was created with only 6 chapters uploaded.
Ad blocker interference detected!
Wikia is a free-to-use site that makes money from advertising. We have a modified experience for viewers using ad blockers

Wikia is not accessible if you've made further modifications. Remove the custom ad blocker rule(s) and the page will load as expected.