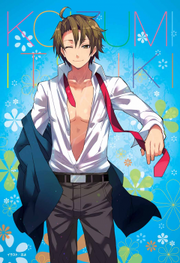 The Intrigues of Itsuki Koizumi-kun (古泉一樹の陰謀 (Koizumi Itsuki no Inbou)) is a manga series by Puyo. The first issue was published in Japan on April 18, 2012, in the May edition of Altima Ace.[1]
References
Edit
↑ 2012-02-27. Haruhi-chan's Puyo to Launch Itsuki Koizumi Spinoff Manga. Anime News Network. Accessed 2012-03-03.
 

Haruhi Suzumiya Manga Volumes
Volumes
Individual
chapters

Volume 3:

Knowing Me, Knowing You

, Volume 4:

Mystérique Sign Returns

, Volume 5:

A Perspective of Life from Shamisen

,

Get in the Ring

, Volume 6:

Show Must Go On

,

Tales From The Thousand Lakes

, Volume 7:

The Day of Sagittarius Aftermath

, Volume 8:

Parallel Sidestory I: A Sudden Cinderella Sidestory

,

Parallel Sidestory II: Mikurion Dollar Baby

, Volume 9:

The Disappearance of Haruhi Suzumiya: Epilogue

,

Parallel Sidestory III: The Message from Meiji 38, All Clear Out Here

, Volume 11:

Red Data Elegy

, Volume 12:

The Disappearance of Haruhi Suzumiya ~Another Day~

(

Intrigues

prologue), Volume 13:

Welcome to the House of Terror

Official
Spinoffs
Official
Parodies
Third-Party
Anthologies
Others
Ad blocker interference detected!
Wikia is a free-to-use site that makes money from advertising. We have a modified experience for viewers using ad blockers

Wikia is not accessible if you've made further modifications. Remove the custom ad blocker rule(s) and the page will load as expected.