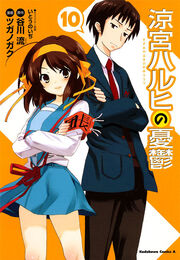 The Melancholy of Haruhi Suzumiya Part 10 (涼宮ハルヒの憂鬱 X) (Suzumiya Haruhi no Yūutsu IX) is a Haruhi Suzumiya Manga volume.
Book Info
Edit
Japanese
Edit
Release date: October 2009
Release date: November 22, 2011
Quite out of the blue, Kyon receives a phone call from his middle school classmate Nakagawa. Six months ago, he spotted Kyon walking with the most beautiful girl he'd ever seen and instantly fell in love! Now he wants Kyon's help conveying his feelings. But Nakagawa has no idea that the fair maiden who stole his heart is actually an otherworldly being…Nagato?! How will the stoic alien react to Nakagawa's affections?!
Chapters
Edit
Love at First Sight I
Love at First Sight II
Love at First Sight III
Snow Mountain Syndrome I
Snow Mountain Syndrome II
This is the first volume to depict one of the male characters on the cover, in this case Kyon.
 

Haruhi Suzumiya Manga Volumes
Volumes
Individual
chapters

Volume 3:

Knowing Me, Knowing You

, Volume 4:

Mystérique Sign Returns

, Volume 5:

A Perspective of Life from Shamisen

,

Get in the Ring

, Volume 6:

Show Must Go On

,

Tales From The Thousand Lakes

, Volume 7:

The Day of Sagittarius Aftermath

, Volume 8:

Parallel Sidestory I: A Sudden Cinderella Sidestory

,

Parallel Sidestory II: Mikurion Dollar Baby

, Volume 9:

The Disappearance of Haruhi Suzumiya: Epilogue

,

Parallel Sidestory III: The Message from Meiji 38, All Clear Out Here

, Volume 11:

Red Data Elegy

, Volume 12:

The Disappearance of Haruhi Suzumiya ~Another Day~

(

Intrigues

prologue), Volume 13:

Welcome to the House of Terror

Official
Spinoffs
Official
Parodies
Third-Party
Anthologies
Others