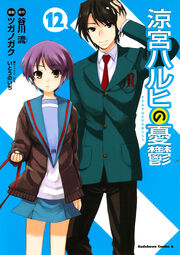 The Melancholy of Haruhi Suzumiya Part 12 (涼宮ハルヒの憂鬱 XII) (Suzumiya Haruhi no Yūutsu XII) is a Haruhi Suzumiya Manga volume.
Book Info
Edit
Japanese
Edit
Release date: October 26, 2010
Release date: May 22, 2012
Kyon knew it was only a matter of time before he would have to return to December 18th of the previous year, to the three days when the SOS Brigade and his supernatural friends suddenly disappeared. Back then, Kyon was cruelly stabbed by alien rogue Ryouko Asakura and nearly bled out on the school roof. How will he fare this time around?
The Melancholy of Mikuru Asahina I
The Melancholy of Mikuru Asahina II
Editor in Chief, Straight Ahead! I
Editor in Chief, Straight Ahead! II
 

Haruhi Suzumiya Manga Volumes
Volumes
Individual
chapters

Volume 3:

Knowing Me, Knowing You

, Volume 4:

Mystérique Sign Returns

, Volume 5:

A Perspective of Life from Shamisen

,

Get in the Ring

, Volume 6:

Show Must Go On

,

Tales From The Thousand Lakes

, Volume 7:

The Day of Sagittarius Aftermath

, Volume 8:

Parallel Sidestory I: A Sudden Cinderella Sidestory

,

Parallel Sidestory II: Mikurion Dollar Baby

, Volume 9:

The Disappearance of Haruhi Suzumiya: Epilogue

,

Parallel Sidestory III: The Message from Meiji 38, All Clear Out Here

, Volume 11:

Red Data Elegy

, Volume 12:

The Disappearance of Haruhi Suzumiya ~Another Day~

(

Intrigues

prologue), Volume 13:

Welcome to the House of Terror

Official
Spinoffs
Official
Parodies
Third-Party
Anthologies
Others
Ad blocker interference detected!
Wikia is a free-to-use site that makes money from advertising. We have a modified experience for viewers using ad blockers

Wikia is not accessible if you've made further modifications. Remove the custom ad blocker rule(s) and the page will load as expected.