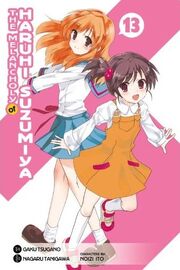 The Melancholy of Haruhi Suzumiya Part 13
(
涼宮ハルヒの憂鬱 XIII
) (
Suzumiya Haruhi no Yūutsu XIII
) is a
Haruhi Suzumiya Manga
volume.
Book Info
Edit
Japanese
Edit
Release date: February 26, 2011
After months of squatting in the Literature Club's clubroom, the SOS Brigade puts pen to paper and starts writing some literature of their own! The Brigade has just one week to create a literature newsletter if they want to keep the Lit Club's space from being reallocated by the student council. As each member prepares his or her contribution, Supreme Editor in Chief Haruhi keeps a watchful eye on her team, especially as Kyon's assigned romance story unfolds!
Editor in Chief, Straight Ahead! III
Editor in Chief, Straight Ahead! IV
Editor in Chief, Straight Ahead! V
The Intrigues of Haruhi Suzumiya I
 

Haruhi Suzumiya Manga Volumes
Volumes
Individual
chapters

Volume 3:

Knowing Me, Knowing You

, Volume 4:

Mystérique Sign Returns

, Volume 5:

A Perspective of Life from Shamisen

,

Get in the Ring

, Volume 6:

Show Must Go On

,

Tales From The Thousand Lakes

, Volume 7:

The Day of Sagittarius Aftermath

, Volume 8:

Parallel Sidestory I: A Sudden Cinderella Sidestory

,

Parallel Sidestory II: Mikurion Dollar Baby

, Volume 9:

The Disappearance of Haruhi Suzumiya: Epilogue

,

Parallel Sidestory III: The Message from Meiji 38, All Clear Out Here

, Volume 11:

Red Data Elegy

, Volume 12:

The Disappearance of Haruhi Suzumiya ~Another Day~

(

Intrigues

prologue), Volume 13:

Welcome to the House of Terror

Official
Spinoffs
Official
Parodies
Third-Party
Anthologies
Others
Ad blocker interference detected!
Wikia is a free-to-use site that makes money from advertising. We have a modified experience for viewers using ad blockers

Wikia is not accessible if you've made further modifications. Remove the custom ad blocker rule(s) and the page will load as expected.