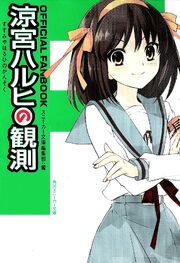 OFFICIAL FANBOOK The Observation of Haruhi Suzumiya (Official Fan Book Suzumiya Haruhi No Kansoku / Official Fan Book 涼宮ハルヒの観測) is an official fanbook published June 15th, 2011 by the Sneaker Bunko editorial staff. It includes details from all 11 Haruhi Suzumiya Light Novels as well as the official timeline for novels 1-8.
ISBN-10: 4044748500
ISBN-13: 978-4044748500
Chapter 1: Character Details
Edit
This chapter goes into details about each of the characters introduced in the novels as well as some design information from Noizi Ito. The following characters were included:
Chapter 2: Story Summaries
Edit
This chapter summarizes the plot from each of the novels. The last chapter only goes up to the ninth chapter of The Surprise of Haruhi Suzumiya (Final Part), leaving out the epilogue.
Chapter 3: Q&A
Edit
This chapter has 50 questions and answers from Nagaru Tanigawa and Noizi Itou
Chapter 4: Re-printed Manuscript
Edit
This chapter reprints a manuscript written by Tanigawa for the October 2009 edition of The Sneaker which goes into the physics and philosophy behind Endless Eight. It is entitled A Study in August.
Chapter 5: Roundtable Discussion
Edit
This chapter features a roundtable discussion between Tanigawa, Ito, two editors from The Sneaker Bunko, and a moderator. The talk occurred in April 2011, before The Surprise was first released.
Chapter 6: Supplementary Information
Edit
This chapter details the additional manga, anime series, movie, and games featured from the Haruhi franchise.
The book placed 8th in its debut rank on the Oricon rankings with 19,542 sold in its first week. Through the end of July it had sold 28,375 copies.