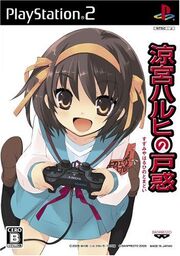 The Perplexity of Haruhi Suzumiya (Suzumiya Haruhi no Tomadoi) (涼宮ハルヒの戸惑), sometimes called "The Rage of Haruhi Suzumiya" or "The Bewilderment of Haruhi Suzumiya", is a Haruhi Suzumiya Video Game. It was published by Banpresto.
The game has many subgames, such as an RPG, a visual novel and a "princess maker" dressup game.
At least one of its settings appears in Haruhi Suzumiya Theatre.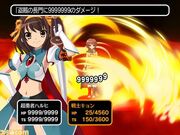 The main character is Kyon, and his job is to help Haruhi create a video game. The SOS Brigade can create a game similar to Dragon Quest, a robot game, a card battle, a board game, a dating sim and even a princess maker. (There are over 30 game types in total.) Kyon must give orders to the rest of the Brigade, including managing their timetables.
Game Info
Edit
Released: January 31, 2008
Console: PlayStation 2
Adventure video novel
Fantasy RPG
Life simulation
External Links
Edit
Ad blocker interference detected!
Wikia is a free-to-use site that makes money from advertising. We have a modified experience for viewers using ad blockers

Wikia is not accessible if you've made further modifications. Remove the custom ad blocker rule(s) and the page will load as expected.