The Promise of Haruhi Suzumiya (Suzumiya Haruhi no Yakusoku) (涼宮ハルヒの約束) is a Haruhi Suzumiya Video Game for the PSP. It was published by Namco Bandai Games.
Game Info
Edit
Released: December 27, 2007 (Japan)
Console: PlayStation Portable
Video novel/adventure game
The story takes place between The Melancholy of Haruhi Suzumiya and The Sigh of Haruhi Suzumiya.
During the Cultural Festival, Kyon is trapped in a time loop. Kyon promises each character something before escaping from the time loop.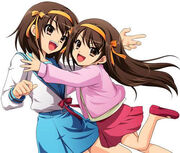 Characters
Edit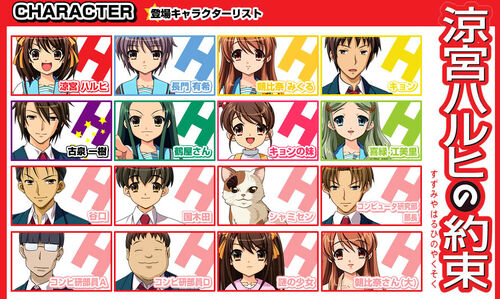 External Links
Edit
Ad blocker interference detected!
Wikia is a free-to-use site that makes money from advertising. We have a modified experience for viewers using ad blockers

Wikia is not accessible if you've made further modifications. Remove the custom ad blocker rule(s) and the page will load as expected.