The Surprise of Haruhi Suzumiya (First Part) (涼宮ハルヒの驚愕(前)) (Suzumiya Haruhi no Kyōgaku (Zen)) is the first of two Haruhi Suzumiya Light Novels that continue the story from The Dissociation of Haruhi Suzumiya.
A Kindle version of the book is available in English.
Development
Edit
The novel's original release date was July 1st, 2007. Two weeks before that date it was changed to "TBA" - no information has been given as to why it was pushed back.
In August 2009, Nagaru Tanigawa, the writer of the novels, announced that he was once again starting work on the novel.[1]
In February 2010, Kadokawa Shoten announced in the April 2010 edition of The Sneaker that the first part of the novel would release in the next issue that would be released on April 30th, 2010.[2] The preview would feature the first chapter of First Part (fourth chapter throughout the story). In the June edition, Kadokawa said that the novel would be released by the end of 2010 and that the story was approximately eighty percent done at the time of publication. The story was finished in late fall 2010.[3]
In The Sneaker Magazine, February 2011 edition, the editor-in-chief Koichi Sakamoto announced that the story will be released on May 25, 2011 in a two volume "simultaneous release". He also announced that there would be an "unprecedented worldwide simultaneous release". The novels were available for sale in China, Taiwan, Hong Kong, and South Korea in addition to domestic publication in Japan for a total of 5 countries. The release was delayed 6 months so that the novels would be translated for a simultaneous release.
Both books are available in a "First Press Limited Edition" version that were sold beginning on May 25th, 2011 only in Japan. This version includes both books as well as a 64 page color booklet containing the Rainy Day short story by Nagaru Tanigawa, a look inside the workplace of Noizi Ito, a special story behind the creation of the first novels, and artwork drawn by Ito, Gaku Tsugano, and Puyo for 1200 yen. On June 15th, 2011 they were sold separately for 580 yen apiece.[4]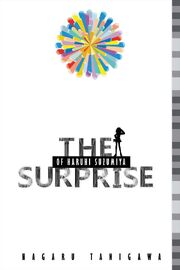 Where Haruhi goes, trouble follows!
The two storylines from The Disassociation of Haruhi Suzumiya continue, introducing a new inductee into the S.O.S. brigade who may be more than just the eager freshman she appears to be. As the two realities converge, the SOS Brigade learns that the new member may have the ability to bring the two story "timelines" together... and save the world in the process.
This book was originally published as two separate volumes in Japan, but the U.S. version will feature both volumes for the price of one.
Kyon goes home from school Monday afternoon, trying to force away thoughts of Sasaki and Kuyou Suou, commenting that nothing is going on that is worth writing about..."in theory".
On Tuesday, Kyon meets with Itsuki on his way to school and they talk about the prospective members of the SOS Brigade. Kyon suggests that around 6 students will come to the clubroom after school and Itsuki suggests less than that. During school, Kyon is able to perform well on the math quiz that Haruhi tutored him for the previous day.
After classes, Kyon gets another lesson from Haruhi, who claims she wants to wait for the new members to arrive. They arrive about thirty minutes after classes ended. In the clubroom are exactly six students (3 boys and 3 girls) waiting for Haruhi to arrive. Itsuki had already brought chairs and Mikuru was preparing tea while Yuki was reading in the corner. Haruhi declared that the second round of testing had begun and for Kyon, Itsuki, and Mikuru to leave the room.
Kyon grabs a copy of the test Haruhi gave to the students and reflects over it with Itsuki and Mikuru in the school courtyard. They return after forty minutes have elapsed to find that all of the students have already left due to Haruhi's order. Itsuki gets a deck of UNO and offers to play with Kyon as Mikuru begins brewing tea.
On Wednesday, Haruhi is late getting to school due to making a lunch for reasons she doesn't understand. She and Kyon begin talking about the final trial in the SOS Brigade application tests. They don't have a lesson after classes end and arrive at the clubroom ten minutes later than usual.
There are only 5 students (3 boys and 2 girls) remaining of the applicants. Haruhi declares that the final trial to start and takes the rest of the Brigade and the applicants to the sport grounds. There she declares that the trial is a marathon as she starts running. Little by little the applicants drop out, but shortly after Haruhi declares the marathon over, a girl crosses the finish line. Haruhi declares that this girl is the only one to pass the test. They arrange for her to begin coming to the clubroom the next day. She leaves afterwards and the SOS Brigade returns to the clubroom.
In the clubroom, Haruhi reveals that she didn't plan for anyone to join the Brigade, but that girl was too good to pass up. Her name is revealed to be Yasumi Watahashi. Kyon instantly remembers that this was the girl who called him while he was bathing Saturday night.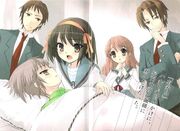 The SOS Brigade goes to nurse Yuki on Monday afternoon. As Haruhi, Mikuru, and Itsuki go to the kitchen to make her food, Kyon talks to Yuki. Yuki explains that she has been infected by something, but constantly insists she will be fine. She does, however, imply that her recovery may be in the hands of the Data Overmind, and reveals that her "sickness" started even during The Dissociation of Haruhi Suzumiya, explaining why Emiri Kimidori was at the café instead of Yuki. Kyon goes to the bathroom to get sheets, but has a brief text-message chat with Yuki and finds that the Sky Canopy Dominion is directly responsible; although he tries to find out more, Yuki's text becomes garbled and she tells Kyon she needs to sleep.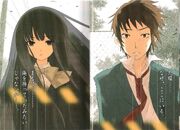 Kyon rushes outside in a rage, running over to Kouyouen looking for Kuyou. Theorizing that she is probably waiting for him, he tries to confront her. The few things she is able to say reveal she is looking specifically for Kyon, not Yuki, and that she wants him to "join her". Things seem dangerous when Ryoko Asakura appears, claiming Kyon as "her prey" and saying that the Canopy Dominion has no right to his living or death, but the Data Overmind does. It is clear that Ryoko has murderous intent, although whom this is directed at is unclear. She instigates a knife battle with Kuyou, twisting the world into one similar to the one she fought with Yuki in during The Melancholy of Haruhi Suzumiya.
Emiri appears and tells Ryoko that she has overstepped her boundaries. Kuyou seems to disappear into nothingness, but she appears a second later about to kill Kyon; Ryoko saves him again. Kuyou then smiles, a supposedly beautiful smile that scares Kyon somewhat. Kuyou disappears for good, and Emiri reveals she was the one who summoned Ryoko, having been given responsibilities delegated to her by Yuki. After Ryoko is told she is being too deviant and after being insulted by Kyon, Ryoko disappears, stating that she can only appear during times of emergency and that she can appear when she is needed.
Emiri informs Kyon that Yuki is actually the one attempting communication with the Canopy Dominion, which is possibly why she is sick; the Dominion contacted Yuki specifically, because she was the closest to Haruhi. When Kyon asks Emiri what he can do, Emiri says that he can do nothing.
Kyon, displeased with the Data Overmind, returns to Yuki's house, where he discusses events with Itsuki. Haruhi declares that the SOS Brigade will meet in Yuki's room until Yuki gets better. Kyon goes home and calls Sasaki in an attempt to assemble her, Fujiwara, Kyouko, and Kuyou, hoping that it will help him find the cure to Yuki's problem.
Tuesday, Kyon talks with Haruhi after she arrives later than usual due to stopping by Yuki's apartment to make her breakfast. There's been no improvement in her condition. During lunch he has conversations with Taniguchi and Itsuki. Itsuki mentions that despite her worried state, Haruhi has not been creating any closed spaces or Celestials over the past few days. He also chides Kyon for paying too much attention to Yuki since the events of Disappearance.
After school he meets with Sasaki, Kyouko, Fujiwara, and Kuyou. Despite being angered by Fujiwara, Kyon makes his request that Kuyou and the Sky Canopy Dominion stop affecting Yuki. All three members agree to that condition if Kyon transfers Haruhi's power to Sasaki. Neither Kyon or Sasaki would like that to happen, but Fujiwara and Kuyou continue antagonizing them, which ruins their meeting. Kyouko mentions that Itsuki founded and is the leader in the 'Agency'. Fujiwara mentions the process behind using the TPDD to create holes in time space while traveling. He gives Kyon more time to make his decision and leaves. Kyouko soon follows but Kuyou stays until Kyon and Sasaki leave.
Kyon, Sasaki, and Kuyou run into Taniguchi and Kunikida outside the cafe. While Taniguchi mistakes Sasaki for Kyon's "old girlfriend", it is revealed that the girl Taniguchi dated during the events of The Disappearance was Kuyou. She later dumped him around Valentine's Day once she realized he was not Kyon. They then go their separate ways.
The next day would be Wednesday. Kunikida catches Kyon as he walks to school and mentions that all three of them haven't changed since they entered high school. The rest of the day passes by normally. After school only Itsuki and Kyon go to the clubroom. Instead of playing games, they go outside and play catch while talking about the events that have occurred.
Following that, Kyon heads to his room and finds Sasaki, who had come over to his house. They talk about Fujiwara, Kyouko, and Kuyou. Sasaki thinks that Fujiwara wants to end things quickly. They also talk about what her purpose in life is as well as what she wants to accomplish. Sasaki mentions that she just wanted to talk with Kyon, but there was another reason as well but that she's already solved that problem. She gives Kyon some confidence and leaves. Kyon then takes a bath and goes to sleep.
(Continued in The Surprise of Haruhi Suzumiya (Final Part))
Rainy Day
Edit
Included with the limited first pressing of both Surprise novels was a short story written by Tanigawa that took place in Kyon's third year of middle school.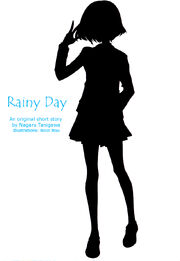 On a day near the beginning of September Kyon lays by his school's pool as his and other classes have their final swimming class of the year. Sasaki joins him and they talk about Kyon's lack of desire to study and their plans for the upcoming high school entrance exams. Kunikida follows and inquires about how close they have gotten. He and Sasaki talk about their favorite style of music, western, and the CD Sasaki lent Kunikida for broadcast during the lunch hour. They sit and watch the rest of the students in the pool until the end of class.
Later that day Sasaki and Kyon continue their discussion about schools when the class leader Okamoto comes over and tells them to fill out their career plan forms. Struck not only by her beauty, but also by how close her face is to his, Kyon reluctantly accepts the form. She leaves and Sasaki continues her discussion, now about the flow of time. Kyon stores away the image of her smiling face in his memory.
They leave the school and meet Kyon's sister as he picks up his bicycle from outside his house. Sasaki accepts a rice cracker and apologizes for not being able to stay and play with her and Miyokichi. As soon as she and Kyon leave it begins to rain. They pull under a shutter to hide from the downpour, but their clothes are already soaked. Sasaki becomes embarrassed and asks Kyon to turn away.
Due to the uncomfortable situation and the questions Sasaki asks, Kyon can only reply with his new trademark phrase "Yare yare." It was the first, but not the last, time he muttered that phrase.
References
Edit