This article is about an unofficial fan work.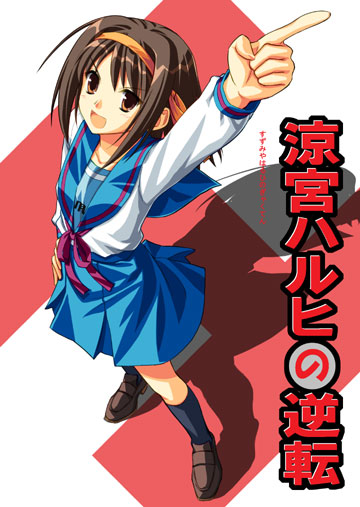 Suzumiya Haruhi no Gyakuten (涼宮ハルヒの逆転, The Turnabout of Haruhi Suzumiya)
is a Japanese doujin game made by CUBETYPE and released in 2006. It's gameplay is based on the Ace Attorney series. It spawned two sequels,
Suzumiya Haruhi no Gyakuten 2+1
and
Suzumiya Haruhi no Gyakuten 3
.
The game is split up into three cases, each with its own storyline. The first two cases only allow the player control during the trial, but the third and final case adds two investigation scenes between the trial scenes where the player explores and talks with other characters as Kyon.
The purpose of the trial scenes is to prove your client innocent. You have to cross-examine witnesses by pressing their testimonies and presenting evidence that contradicts their statements. The player is given a limited number of chances, and if they present the wrong evidence too many times, the game will be over and their client will be pronounced guilty.
The first case revolves around a maid outfit stolen from the SOS Brigade clubroom. Kyon is accused of stealing it, and is put on trial. The Computer Research Society President testifies against Kyon, but Haruhi is able to poke holes in his story and reveal his lies. In the end, Kyon realizes that it was Nagato who took the dress, and afterward Haruhi lets her try it on.
External links
Edit
Ad blocker interference detected!
Wikia is a free-to-use site that makes money from advertising. We have a modified experience for viewers using ad blockers

Wikia is not accessible if you've made further modifications. Remove the custom ad blocker rule(s) and the page will load as expected.