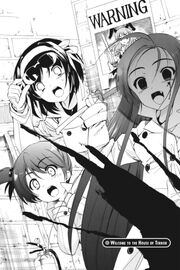 Welcome to the House of Terror is a Haruhi Suzumiya Manga chapter in volume 13. It takes place concurrently with the latter part of Editor in Chief, Straight Ahead!.
Book Info
Edit
The night before publishing the organ (collection of literature) to save the Literature Club, Haruhi complained that many contributors, such as Taniguchi, had yet to submit any work. Haruhi ordered a meeting be held at Kyon's house. There, she revealed that her own work wasn't yet done.
Kyon's Sister had invited Miyokichi over to her house. She was happy to see Kyon again again. (Taniguchi was happy to see her too, until Kyon reminded Taniguchi of Miyokichi's age. Haruhi was not happy to see her, and forced her to confirm her "date" with Kyon previously.)
Miyokichi had visited to ask Kyon for a favor - to visit a large abandoned house where a family was rumored to have been murdered. She showed them pictures of the house in a scrapbook, showing her interest in B movies.
Haruhi decided that the writers would go there. On the way, Miyokichi noted that the house's area was under construction, and everywhere was being rebuilt except for the spooky house itself. Haruhi was particularly interested in the haunting rumors.
They entered the house, and inside found a large number of award certificates for a kid named Eiji Tsukada, arranged in an unusual pattern. They found his room, holding textbooks and a diary. The diary showed he had demanding parents. The group was interrupted by rattling and movement... Miyokichi recognized the interloper as the movie director Eiji Tsukada, now an adult. He had come to the house with a movie crew. Miyokichi squealed with pleasure, telling him she loved his early movies. He pointed out she was too young to be seeing movies like that. (She and Kyon had seen a revival of one of Tsukada's earlier works.)
Tsukada had wanted to write a documentary about his life. His family had left the house, but Tsukada hadn't sold the place. He found it depressing, but that had gotten him into escaping into movies.
Taniguchi decided he had enough material to write his story. Meanwhile Miyokichi took several pictures of the house for her scrapbook. She wanted to show them to her parents, who didn't understand her passion for movies.
The organ was finished the next day. The two hundred copies they made were all gone within a day, and Tsuruya's contribution was especially popular. Kyon noticed that Haruhi's contribution resembled the pattern of Tsukada's awards. Mikuru Asahina said this paper was crucial to the development of time travel.
Kyon bought a DVD of the movie he and Miyokichi had watched, then wondered if he should give it to her as a present, and whether her parents understood her now.
 

Haruhi Suzumiya Manga Volumes
Volumes
Individual
chapters

Volume 3:

Knowing Me, Knowing You

, Volume 4:

Mystérique Sign Returns

, Volume 5:

A Perspective of Life from Shamisen

,

Get in the Ring

, Volume 6:

Show Must Go On

,

Tales From The Thousand Lakes

, Volume 7:

The Day of Sagittarius Aftermath

, Volume 8:

Parallel Sidestory I: A Sudden Cinderella Sidestory

,

Parallel Sidestory II: Mikurion Dollar Baby

, Volume 9:

The Disappearance of Haruhi Suzumiya: Epilogue

,

Parallel Sidestory III: The Message from Meiji 38, All Clear Out Here

, Volume 11:

Red Data Elegy

, Volume 12:

The Disappearance of Haruhi Suzumiya ~Another Day~

(

Intrigues

prologue), Volume 13:

Welcome to the House of Terror

Official
Spinoffs
Official
Parodies
Third-Party
Anthologies
Others
Ad blocker interference detected!
Wikia is a free-to-use site that makes money from advertising. We have a modified experience for viewers using ad blockers

Wikia is not accessible if you've made further modifications. Remove the custom ad blocker rule(s) and the page will load as expected.